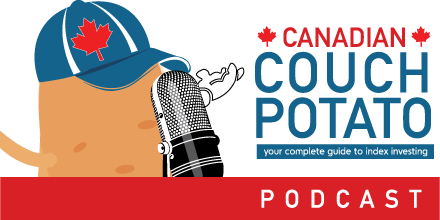 The Canadian Couch Potato podcast, hosted by Dan Bortolotti, is devoted to helping you become a better investor with index funds and ETFs. Each episode incudes interviews with experts, helpful tips for DIY investors, and answers to questions from listeners and blog readers. Subscribe today using your favourite podcast software so you never miss an episode.
After each episode has been released, we'll post a link to the relevant blog post, which includes a streaming feed so you can listen in your browser. The blog posts also include links related to the episode's guest, the investing topics discussed, and other show notes.
If you enjoy the podcast, please rate us on iTunes!
Episodes
14. How to Make Millions in Bitcoin (Not Really), feat. Shannon Lee Simmons (January 16, 2018)
13. Here Come the Robots, feat. Pauline Shum-Nolan (December 13, 2017)
12. Robert Shiller: CAPE Crusader (November 10, 2017)
11. Fighting Evil with Index Funds, feat. Mike Foy (October 5, 2017)
10. MoneySense, We Hardly Knew Ye, feat. David Thomas (August 2, 2017)
9. Finding Common Ground, feat. Tom Bradley (June 14, 2017)
8. Couch Potato With a Conscience feat. Tim Nash (May 18, 2017)
7. Making Sense of Bonds (April 19, 2017)
6. Wishing upon a Morningstar feat. Christopher Davis (March 6, 2017)
5. Master Class with the Millionaire Teacher feat. Andrew Hallam (February 8, 2017)
4. Charles Ellis and the Index Revolution (January 25, 2017)
3. A Hedge Fund Manager Comes Clean feat. Lars Kroijer (January 11, 2017)
2. Planning vs. Investing with Sandi Martin (December 14, 2016)
1. Are You Ready for DIY? feat. Justin Bender (November 30, 2016)