[Note: This was an April Fool's joke!]
One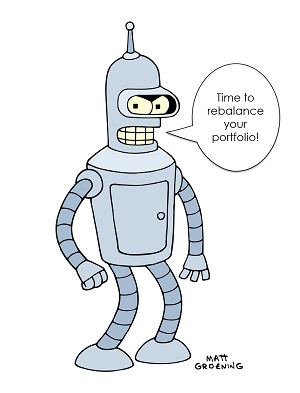 of the most exciting developments in investing is the rise of online wealth managers, also known as robo-advisors. These services offer online portfolio management at a fraction of the cost of a full-service advisor. We've seen a number of these services pop up in Canada in the last year so, and I am happy to announce that my colleagues at PWL Capital are set to launch our own online service for Couch Potato investors. Best of all, it will be absolutely free.
We've nicknamed our service Bender, in honor of the lovable robot character from TV's Futurama. (Any resemblance to the name of a human portfolio manager is purely coincidental.) Bender will be unlike any other robo-advisor, because it won't actually make any trades in your account: it will simply give you voice instructions. Then you're responsible for carrying them out.
This is something of a revolution in the robo-advisor space. Provincial securities regulators have put up high barriers for online wealth managers: they simply don't like the idea of robots making bad investment decisions when human advisors are perfectly capable of doing that on their own. The Ontario Securities Commission blocked our initial application. But we've skirted their objections by programming Bender to leave the trade execution up to the individual investor. This feature has the added bonus of giving DIY investors a more hands-on experience.
How the service works
To understand how Bender works, let's look at example. Assume the target asset mix in your RRSP is 20% Canadian equities, 40% US and international equities, and 40% bonds. Stock markets have been strong recently, and you've just made a $10,000 contribution, so your portfolio is now out of balance:
| | | | |
| --- | --- | --- | --- |
| | Value ($) | Value (%) | +/- Target |
| Cash | 10,000 | 4.90% | +10,000 |
| Vanguard FTSE Canada All Cap (VCN) | 42,896 | 21.01% | +2,067 |
| Vanguard FTSE All World ex Canada (VXC) | 85,963 | 42.11% | +4,305 |
| Vanguard Canadian Aggregate Bond (VAB) | 65,287 | 31.98% | -16,371 |
| | 204,146 | | |
Bender's algorithm will determine the number of shares of VCN and VXC you will need to sell to get your equity allocations back on target. Then it will calculate the number of shares of VAB you need to buy to prop of your bond holdings. But rather than placing those trades automatically, Bender will give you these instructions in his charming robot voice:
Need answers? Ask Bender
Our robo-advisor service doesn't just manage your portfolio. It also answers your questions about current market conditions through an interactive feature we're calling "Ask Bender." For example, you might ask him for his opinion on the current low-rate environment:
Worried about the recent weakness in oil prices? You can ask Bender about that, too:
We hope future upgrades will include the ability to send alarmist tweets when markets go down, make useless forecasts in the media, and perform several other tasks that are currently the domain of human advisors. We're even exploring the possibility of getting Bender insurance-licensed so he can recommend segregated funds.
There are still some bugs in the software, but we're hoping to launch Bender within a couple of weeks. We hope you'll agree it will be the most significant development in the Canadian investment industry since smart beta ETFs. We'll keep you up to date.