I never meant to make you cry
And though I know I shouldn't call
It just reminds us of the cost
Of everything we've lost
Bad timing, that's all
– Bad Timing, Blue Rodeo
One of the promises made by active managers is that they can move to cash before the markets tank and then get reinvested before they recover. When markets are as volatile as they have been in recent years, a manager with this skill would be something of a hero.
I recently looked at the record of actively managed mutual funds during bear markets for an article just published in Canadian MoneySaver. I found that there were indeed periods where managers were able to protect investors from losses. The problem was that defensive mangers were usually late to the recovery party. As a result, over an entire market cycle most investors are usually better off staying fully invested all the time.
Shortly after the article appeared, Dave Dennis of Newmarket, Ont., explained that he had done his own informal study on this subject a couple of years ago and generously agreed to share his findings. "I went back in the history of both Market Call and Market Call Tonight on BNN during 2008 and 2009 and recorded every time one of the professional guests called for cash as one of their Top Picks at the end of the show," Dave explained. He plotted those dates with a red dot on a chart a graph of the S&P/TSX Composite Index.
If the market gurus had an ability to identify the best and worst times to be in the market, most of the red dots should appear near the market peaks, and the fewest dots should appear near the troughs. Let's see how things turned out: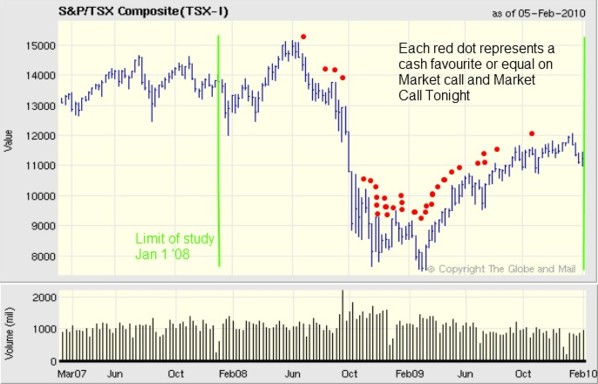 "In 2008 there were no Top Pick recommendations for cash until July 11," Dave pointed out. "All the while the TSX index was flirting with 15,000. There were two in each of July, August, and September. Then between October 22 to November 24, a little over a month, there were six cash Top Picks. This last flurry of picks were all made when the TSX had already dropped 30% and was below 10,000.  Some guests even picked cash when the index was approaching 8,000 after a drop of nearly 50%."
No one claims to be able to move in and out of the markets perfectly, of course. But you will often hear managers say they can add value if they right about 70% to 80% of the time. This chart suggests that most of them come nowhere close to that. Professional money managers, it seems, are subject to the same emotions as retail investors.
By the way, I set out to find the guy responsible for the solitary little dot on July 11. I found him living on a 200-foot yacht in the South Pacific. And the folks who brought you the mess of dots between October 2008 and February 2009? You can see them again tonight on BNN.