The following model portfolios can help you get started with the Couch Potato strategy. They use a traditional split of 60% stocks and 40% bonds, which is suitable for many long-term investors with a moderate risk tolerance. But you should feel free to adapt them according to your own risk profile. Conservative investors can allocate more to bonds and less to stocks, while aggressive investors can do the opposite.
All the portfolios are suitable for tax-sheltered accounts. However, investors managing multiple accounts (RRSPs, TFSAs and non-registered accounts) need to consider proper asset location to maximize tax-efficiency. For example, if you have no choice but to hold fixed income in a non-registered account, you should avoid bond ETFs altogether and consider substituting a ladder of GICs.
You can build these portfolios yourself with a discount brokerage account. If you need professional help in assembling and maintaining a portfolio, consider PWL Capital's DIY Investor Service.
The 20-year performance record (from 1994 through 2013) of these portfolios is available here. The data include actual fund returns and when available, and index returns (minus fees) when necessary. Past performance is no guarantee of future results.
---
Global Couch Potato
This simple portfolio—popularized by MoneySense magazine—gives you exposure to stock markets in all developed countries, as well as a firm foundation of Canadian bonds.

There are several ways to build a portfolio with this asset mix:
Option 1: For investors with relatively small portfolios (less than $50,000 or so), the simplest way to get started with indexing is with one of the Tangerine Investment Funds. The Tangerine Balanced Portfolio is a one-fund version of the Global Couch Potato. The annual cost of these funds is 1.07%.
Option 2: Using individual index mutual funds allows you to keep management fees low and customize the asset mix. TD's e-Series funds are the best choice, but they are only available to investors who open an online account with TD Canada Trust, or through a TD Direct Investing discount brokerage account. The total annual cost of this portfolio is 0.44%:
Option 3: Those who use other discount brokerages can consider this option using index mutual funds from other providers. The total annual cost is 0.71%:
Option 4: Investors with at least $50,000 can consider ETFs rather than index mutual funds, especially if they add new money annually rather than monthly, or if their brokerage offers commission-free ETFs. The estimated annual cost of this portfolio is 0.14%:
---
Complete Couch Potato
The Complete Couch Potato includes additional asset classes while remaining easy to manage. This portfolio is really all the average investor will ever need: it includes almost 10,000 stocks in more than 40 countries, as well as government and corporate bonds of all maturities and additional diversification from real estate and real-return (inflation-protected) bonds.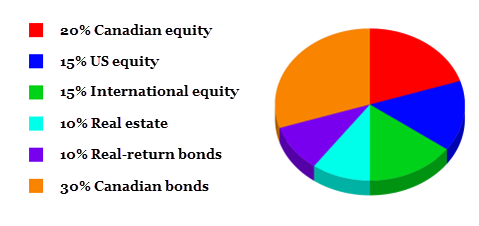 The following version of the portfolio uses US-listed ETFs for the foreign equity components. These have lower MERs than their Canadian counterparts and are exempt from US withholding taxes when held in an RRSP. The weighted MER of this portfolio is 0.18%.
Note: Trading US-listed ETFs can be extremely costly due to the high currency spreads charged by discount brokerages. Investors may prefer to substitute the Vanguard US Total Market (VUN) for US equities and a combination of the iShares MSCI EAFE IMI (XEF) and iShares MSCI Emerging Markets IMI (XEC) for international equities. A mix of about two-thirds XEF and one-third XEC would be appropriate.
---
Über–Tuber
This ETF portfolio is inspired by the academic work of Eugene Fama and Kenneth French. The Fama-French research demonstrated that value stocks and small-cap stocks have historically delivered higher returns than the overall market.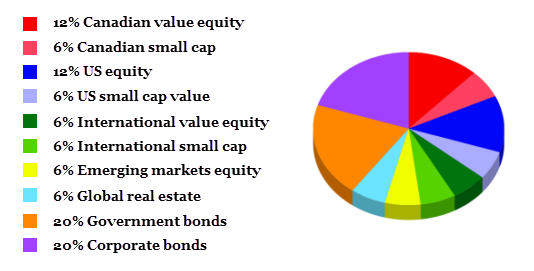 Because it includes so many funds, including several listed on US exchanges, this portfolio may be difficult to manage and is not recommended for inexperienced investors. It is not likely to be efficient for accounts less than $200,000. The portfolio's overall cost is 0.28%.
.
---